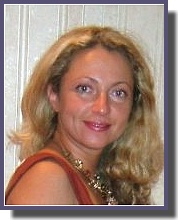 Inna Lukyanovsky
Welcome to www.natural-real-health-solutions.com.


| | |
| --- | --- |
| | This website is for everyone. Everyone wants to be healthy. Yet, there are so many conflicting views on what "healthy" really means. There are also diverse philosphical approaches and technical methodologies when it come to health care and advice. So, on this website, I am calling on my very own educational qualifications and background. Maybe more importantly and of greater value to YOU, is that I am also integrating my own personal experiences with Crohn's disease. |
By opening these resources up to you, I sincerely hope you find answers that you really need as you explore your health choices and live your lives. Our beliefs have come to be multi-dimensional, utilizing the best of both the traditional and alternative medicines. This should benefit you as we have learned that the total answers and many cures actually result from the use of parts of both disciplines.


Are You Experiencing:

Heartburn * Indigestion or Bloating * Fatigue * Irritability and Mood Swings * PMS Fertility Problems * Hot Flashes * Night Sweats * Weight Gain or Weight Problems Headaches and Migraines * Insomnia * Depression and Anxiety * Food Cravings Decreased Sexual Desire * Insomnia * Arthritis * Joint Pain / Inflammation * Food Allergies * Overeating



Are you tired ALL the time? Are you sick of babying your chronic disease? If so, then you are at the right place.

So again, welcome to my site and I wish you the best that life has to offer, always.

With care,

INNA