Tired of Writing Ads And Seeing NO Results?

Now Learn How YOU Can

Write GREAT Ads And Earn Business!
In business, especially small business, would you say it's important to be able to write great ads? What about an entrepreneur without much capital? Yes! You MUST learn how to write great ads!
Then of course after you can write great ads..you must place them in the right places!


There is NO time (nor money) to waste!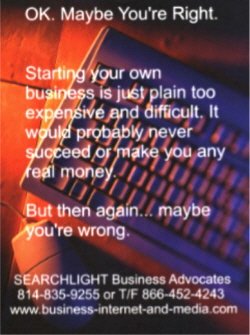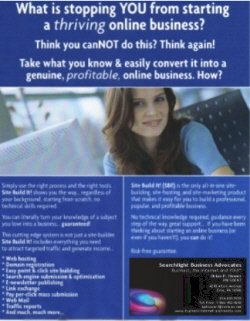 Make SURE that your SIGNS are one of your most effective ADS! This is the best online source of signage I have seen yet:


NOTE!: Have you yet heard about the concept of pay-per-play?
I thought adsense ads were as close to making free money as it could get. And it WAS until THIS came along! ( Watch the VIDEO below first and then click the banners and GO sign up --it's FREE!)

RUN FREE audio ads on YOUR site(s)!


or
(click the banner just below to see why this is a GREAT concept!)...
Purchase an audio advertising campaign
and target
ideal
prospects, generate awareness, offer any kind of "today's special" offer (get a CALL) or get traffic to YOUR website directly in ONE click!!
Thanks for reading!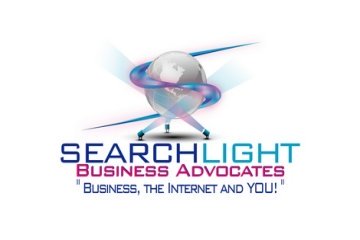 Click Here To See Our ANIMATED Logo !
Brian P. Hower
President and Founder
SEARCHLIGHT Business Advocates
www.business-internet-and-media.com
"Business, the INTERNET, and YOU!"
814-836-8701 or Toll Free: 1-866-452-4243
Click here to speak to us right now!
Contact
Email