Sooner or Later, You WILL Need To Create The BEST Business Marketing Materials For YOUR Business.
---
How important is it for YOU to find and use only the best business marketing materials?
When you are serious about success, you will realize that your really need the very best business marketing materials for your business.
Yes, there are less expensive, even downright cheap ways to try to promote business.


But is that how YOU want to be perceived? Of course it isn't.
Business is all about quality, trust and service. It's about strong relationships and real value for the money.
Achieve THAT message with your marketing collateral materials and you'll be lengths ahead of your competition. And be sure YOU use the best business marketing materials you can find.
To help create a seamless service for you, our valued client, we've established our OWN fantastic online PRINT HOUSE that YOU can access now or anytime at all to create, order and re-order ALL of the best high quality business marketing materials. Heck, we'll even put them together, place the order and send them off FOR you if you tell us that's what you want! How's that? Another headache ...GONE!
For starters, you'll need great Business Cards.
Quality business cards are the easiest and cheapest way to market your business and let everyone know what you do! In fact, on value alone business cards may be THE best business marketing there is. Try them on magnetic business card stock material to make them literally "stick around" a lot longer.
Next, you will start to think about High Impact Flyers.
Or perhaps you'll want to try Door Hangers to see if the direct approach with your business marketing material is most effective.
If you want greater visibilty inside or maybe outside your building or store, you might want to have a large POSTER running across a wall or down your facade.
And it's always a good strategy to target business marketing and advertising at a high probability market and do some direct mailings with great postcards.
We offer the best of everything else imaginable for your business marketing too--all at VERY reasonable rates. Our selection of graphics,templates and THEMES (check them out!) is GREAT too! Even add your company logo in a snap!
If you already have you design and/or logo etc.--just send it over and we can customize all of your business marketing materials easily and quickly.
It's the FUTURE of Business Marketing!!
Get all of your marketing materials, sales flyers, business cards for the BEST business marketing you have ever done!
We wish you every success!
Click the graphic below and buy all kinds of hats/shirts with teh NEW SEARCHLIGHT LOGO on them! And, If YOU are ready, Design Your very OWN shop just like mine!


Click HERE To Go Back To Our Home Page

Thanks for reading!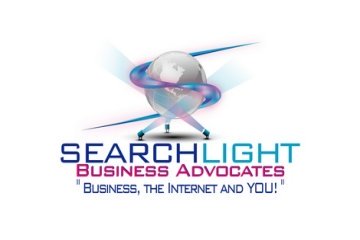 Click Here To See Our ANIMATED Logo !
Brian P. Hower
President and Founder
SEARCHLIGHT Business Advocates
www.business-internet-and-media.com
"Business, the INTERNET, and YOU!"
814-836-8701 or Toll Free: 1-866-452-4243
Click here to speak to us right now!
Contact
Email