Find A Career With Us!

A career with Searchlight Business Advocates is likely much different than what you might expect.  We have several different options that you may want to consider!  If you are ambitious, smart, driven and somewhat entrepreneurial...

If you're looking for the typical job board, this is not the place for you. At present we do not offer any salaried W-2 type positions. These would be 1099 independent contractor situations. However we think we offer something better. Much better in fact. 
You see, we are an internet business development consultancy. Our expertise lies in educating small business owners and new start-up entrepreneurs on how to use the internet correctly to build a REAL business.
So what might that mean for you?  Well, think about it. You could:
A. Work with us as a "trainee" and learn the exact systems that we use to do this. Once you are competent, you might even someday branch off and stat your very own consultancy!
B. Work with us as a sales manager.  Your "job" would be simply to identify small businesses, website owners and/or new entrepreneurs that would benefit by getting to know us - and hopefully becoming clients.
C. Or you might do as I did, just take the bull by the horns and start a business of your very own! ANY type of business. We'll show you how.
This kind of work is absolutely ideal for:
work at home moms/dads
college students
veterans and disabled
teens
retired individuals
anyone looking for a fun, rewarding, challenging way to earn money!
"How much money can I earn?"  The answer is definitely completely up to you.
I will show you anything you want or need to know. Some is drop dead stupidly simple. Ex. B. above.  And some are pretty labor intensive and a little bit technical. But if you did well in high school and.or college, you should easily be able to do this!
What will it cost me?  Again, it's up to you. Option B. above is completely free and I will train you!  And just because it's a free option does not mean it isn't potentially lucrative. All options can deliver an unlimited monthly income with some time and work on your part. Even the other options are ridiculously inexpensive for the potential they offer you. All true "no brainers".

"What if I need money immediately?" Try option B!  I have made several 1300-1500.00 sales in about ONE hour's time. There is no reason you can't do the very same thing.
If any of this seems like it's up your alley or if you just have a question, just pick up a phone and call me.  We'll have a fun and informative discussion. NO sales pitch.
This is an opportunity for you and the decision will of course be all yours as well.
So what have you got to lose?  This is by far the best thing I have ever done. I believe it will be for you too.
Thanks for reading!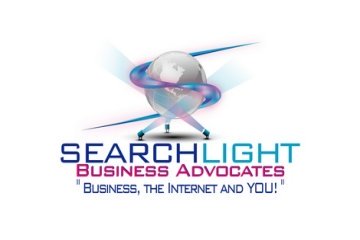 Click Here To See Our ANIMATED Logo !
Brian P. Hower
President and Founder
SEARCHLIGHT Business Advocates
www.business-internet-and-media.com
"Business, the INTERNET, and YOU!"
814-836-8701 or Toll Free: 1-866-452-4243
Click here to speak to us right now!
Contact
Email