Easiest Way To Make Money Possible
OK. You want THE easiest way to make money in existence, Right? Well, just read this page.Then send me your questions. OK?
Or we can talk 814-836-8701. 
A. Go to the link below and sign right up for FREE. This is how I track who you are and how you get paid! Once you are signed up, we will arrange a very simple training session right away. The training is also completely free of charge. So just DO it. 
Here is the set of services that I WILL fulfill. You do not need to concern yourself with them at all so this is just FYI. So you do NOT need to discuss, persuade or SELL in any way at all.
B. SERVICES.

In fact, if you do, you will hurt the sale. All u do is ask a couple of very simple questions to ID real prospects. Then send me their contact info. When a sale results, WE make $!  This really is exactly that simple.
C.  Talk with people and small business owners.

So it's...
You  simply help me FIND them ( any entrepreneur or small business owner--ANYWHERE.)

I do all the hard work.
WE get paid.
And, I will increase your percentage as you do better at it!
AND...you could actually become a Sales/Business Development Manager. If you can find a few others who want to do this too...you simply manage them. YOU get a smaller percentage of their results but end up making MORE by volume..
So instead of your own 30% on 10k = 3000/month. You could have 15% of 30k = 9000/month. etc. All kinds of possibilities!
NOTE: This has ZERO to do with any "biz opp" or MLM. This is straight business as usual. We sell fantastic services to people who will benefit by them. And make commissions and fees for the work. That's it.
Pretty great isn't it?  Get started right NOW.  814-836-8701.

Thanks for reading!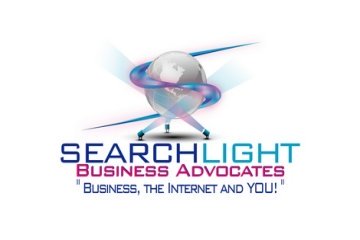 Click Here To See Our ANIMATED Logo !
Brian P. Hower
President and Founder
SEARCHLIGHT Business Advocates
www.business-internet-and-media.com
"Business, the INTERNET, and YOU!"
814-836-8701 or Toll Free: 1-866-452-4243
Click here to speak to us right now!
Contact
Email